When looking for a wedding photographer you should consider the style you are looking for and what generally what this style is called. The best wedding photographers have a technique of their own and while most can offer a mixture of photographs they will specialise in a particular style as their trademark.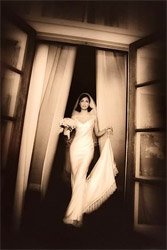 As the name of this style suggests this is a photography technique that is simply 'to report' what happens. A more artistic definition of wedding photojournalism is when images are captured spontaneously to emphasize the 'moments' and the emotion of the day. This style is the almost exact opposite of traditional or formal wedding photography. It is candid, natural, 'as it happens', and unscripted by the photographer or anyone else.

The photo journalistic style became popular as a counter to the very formal and ritualised photos taken by 'formal' or traditional wedding photographer...."full length bride & groom, bridal party, portrait bride, kissing under church steeple".... All very cliched photos and the resulting pcitures were predictable, boring, and the same from wedding to wedding. The revolution in wedding photography and it's transformation to a new and artistic photographic style can be attributed largely to the new photo journalistic approach. These photographers believe that the essence of a wedding isn't the formal posed photos but the quickly passing, unfolding and spontaneous moments that occur uniquely to every wedding.

The photo journalistic style is quite common now, but it's early proponents can be found in the likes of Joe Buissink (see Joe Buissink Photography), Denis Reggie (see Denis Reggie), Jeff Ascough (see Jeff Ascough), and many others who capture beautiful candid moments of a wedding. The most powerful photojournalistic wedding photos are those that transcend a single wedding, are iconic across all weddings, that show the human / emotive aspect of weddings.

So a photographer who takes photographs as the day unfolds will capture moments as they happen rather than (or as well as) taking posed shots. This is nothing special in a sense, it just means that you need to hire a photographer who has an eye for these moments, and is prepared and willing to capture them! Don't be fooled that wedding photo journalism means someone simply turns up and takes shots as they happen: capturing the moment, being ready for the decisive shot, preparing and positioning all takes immense photographic skill.

On the extreme end of wedding photography photojournalism there are some photographers who will not interact with the bride, groom, or anyone! Be wary of this approach, as you may miss the usual formal photos of family, Mum and Dad etc. You may be disappointed if key photos are missing or that there aren't any romantic shots of you and your husband together. No one likes a cliched tacky photo but some cliches can be very good photographs. The extreme reportage style can look great with very candid moments but most people also like some slightly more posed shots that they can frame and send to granny for her mantelpiece. It can be a bit hit or miss; people either love it or don't 'get it'.
A formal approach to wedding photography used to mean a fairly standardised number and style of photos. Traditional wedding photographers had a very tight list of shots to take and it meant major trouble if they missed any on the list! This approach was partly a function of using film cameras (usually medium format) and the type of film used which only had a few shots per film.... and the film was expensive.

Whether it is deserved or not, when you speak of 'formal wedding photography' or the 'formal photos' people conjure up images of old-fashioned wedding albums showing uncomfortable families standing in a line (looking like they are in a firing squad!) or very posed and unnatural bride and groom photos.

Thankfully wedding photography has moved on considerably from this type of thing and the modern definition of a 'formal' wedding photograph is one where the family members can be clearly seen and depicted. It is a record (usually well received by Mum or Grandma) and a good wedding photographer will be able to meet the demands of formal photos. They should be able to put the group at ease and ensure the poses are natural and not forced. Even if you detest the idea of posed photos or formal shots you may be surprised how treasured these type of photos might become because they are a great family record of the wedding.
When you consider glamour wedding photography think beautiful, magazine, stunning, elegant and magnificent photos! Photographers who can provide glamour wedding photography are fairly rare but they can transform your wedding photos from the mundane to Vouge-like photographs. If you want to be captured at your absolute best in the most glamouros and fashionable way then glamour wedding photography is for you.

The very best of the glamour photography can be seen in photographers like Yervant (see Yervant) or Bambi Cantrell (see Bambi Cantrell) and Jerry Ghionis (see Jerry Ghionis). Their approach is to create glamorous and beautiful wedding images of the bride, and the groom. Forget candid shots, these highly polished photographs are masterpieces of photographic technique and artistic style.

Simply said: if you want to look (and feel) like a super model on your wedding day then glamour photography is the style for you!
These photographs are usually taken after the ceremony and before the reception when the bride and groom are alone with the photographer. This is the time when a good wedding photographer will be worth his or her weight in gold! The right light, the right location, and the best poses will create beautiful romantic photos you can cherish as a memory of your wedding day forever!

Some will be posed portraits whilst others will be candid pictures of the happy couple. Posed portraits don't always have to be cheesy though most albums will have at least one of the bride and groom kissing under a tree or by a lake or while sitting on a bench or all of the above! The common denominator in all romantic photographs is that they show the love and affection the couple feel for each other on their wedding day.
A lot (in fact, most) of modern wedding photographers will provide a varying mix of the above styles. They will take formal shots after the ceremony, but also capture unique moments as they happen during the day. They will take some great detail photos but also add some high quality posed photos of the bride and groom.

Some people will favour a photojournalistic approach, some will place more emphasis on the formal shots. It is wise to look at a photographers work and decide where they place themselves on the wedding photography spectrum. The decision that you make on your wedding photographer should be largely governed by their style, not necessarily price.